ICT can be a great force for pursuing sustainability, says Malcolm Johnson, director of Telecommunication Standardisation Bureau ITU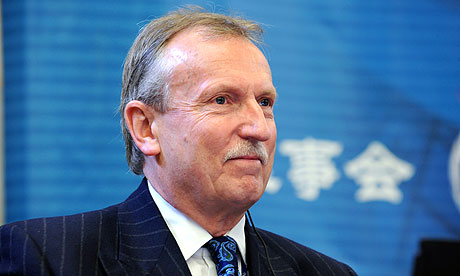 Malcolm Johnson, Director of the ITU Telecommunication Standardization Bureau, at the ITU Council 2010. Photograph: V. MartinInformation and communication technology (ICT) have taken over our lives. We are reaching a stage where networked devices may number trillions.
There are obvious environmental ramifications to this exponential growth. According to the International Energy Agency (IEA), if IT power consumption continues to grow at 15% a year it will represent 40% of all global electrical consumption by 2030. Apart from the carbon footprint created by the use of ICTs there are other considerations in manufacturing, transport, mining of rare metals and the issue of waste.
However, we can also harness the power of ICT for environmental good.
ICT can help manage smart buildings that power themselves and then feed energy back into the electricity grid, a new smart grid providing a much more efficient distribution. It can power smart buildings, manage better water distribution and power intelligent transport systems.
Intelligent transport systems (ITS) can clear our cities of debilitating pollutants and traffic jams. In connected cities you will be directed to the nearest available parking space, GPS enabled systems will make traffic flow better and intelligent ambient lighting will appear only when and where it's needed. ITS can also be applied to public transport, to respond more efficiently to customer needs as well as providing the means for electric cars to provide distributed energy storage in network downtime.
Urban broadband access for everyone will help to create a level playing field of opportunities for the underprivileged. Teleworking, already happening today, will increase as urban environments implement universal access, enabling more flexible and efficient working conditions.
Sensor networks and artificial intelligence will become embedded into the physical environment of our cities. Already digital spaces and public problem solving tools are emerging as solutions for positive change.
International consensus on standards for climate change mitigation and adaption, environmentally friendly and energy saving technologies, energy efficiency and greenhouse gas emission accounting and verification, will provide a firm foundation for designers, architects, engineers, developers and government authorities to create sustainable living environments.
For its part, ITU has standardised a methodology giving ICT companies a consistent mechanism to report on their carbon footprints, and continues to produce more energy efficient global standards, such as the universal charger for mobile devices, saving an estimated 13.6m tonnes of CO2 and 82,000 tonnes of redundant chargers, every year. No more drawers full of redundant chargers!
If supported by smart policies and proper standardisation, ICT can be a force for good in creating a kinder, more connected and colourful world.
The financial and economic crisis sweeping the globe has hampered investments for alternative technologies, while placing ever greater stress on the business case for going green. Fortunately, many national stimulus packages stipulate that rebuilding infrastructure be done in a more environmentally friendly manner.
Even conservative estimates show a significant contribution can be made through the application of ICT. Companies can exercise corporate social responsibility while also improving efficiency and reducing costs. There are some truly compelling reasons for businesses to take in this challenge.
This article was produced for Guardian Professional – a commercial
division of Guardian News and Media.