How many times have you had the following conversation by a new client contact!
Conversation goes something like this:
"We have been project managing this development, its been going really well.
We don't need any help on the main project works, as we did it ourselves, using local trades people, and we are now close to starting the 2nd fix and final decoration for project completion stage, but we need a little bit of help. The Electrician hired says we may have a problem.

We only got the original building electrical supply at the moment. The supply needs to be relocated to the other side of the development and replace by a bigger new electrical supply to support the new development. Need to move the existing meter quick, as its holding us up finishing off this area.

It's OK. We've walked around the local streets and found an existing substation just down the road, its only 45 meters from the site boundary, across the main road by the roundabout and a further couple of streets away!
We've googled the net and got ourselves a bit confused, don't need: "to save electrical savings by changing suppliers", or "EDF Energy's plans for new nuclear build".
We admit we don't know the electrical supply application process, but you must have contacts you can use! "
Followed by the final opening sentence…
"A new electrical supply – It can't be that hard, to arrange for for us! Can it?"
Your reply:
"OK………….we know who to call.
We'll give them a ring right now, and get a new supply installed by some time next week for you. We assume you just need a 200A TP&N supply for now.
Well also arrange for the meter operator associated works to be completed at the same time.
Should have power on very shortly!
Any think else you need our help on?"
Mummm…………
No!
Didn't think so…..
Well that was the response the customer expecting, and needed you say!
How many times do you dread giving the client an enlightened answer!
When given, it goes like this…
I DON'T BELIEVE THIS – PLANNING PERMISSION WAS QUICKER THAN THIS!
Followed by:-
Your just being difficult and very pessimistic.
As a professional engineer you may have to take this approach to clients!
Followed by:-
OK, but there must be a quicker method to get a new electrical supply!
HOW MUCH MORE DOES IT COST?
Final works:
"Do what you can…..
Can you provide us with a daily update!
It urgent, we must have power, we can't sell the development otherwise"
Authors note:
The answer is complex, and over time this blog will give some of the answers, related to this subject.
But, bottom line is, employ a professional early on in the project , who knows what to to do and guide you through the supply maze.
Its money well spent, could save you a lot of time, effort and piece of mind.
If your wanted to the know answer, how long could it take?
Read on and assess it for yourselves:
……………….Start of Enlightenment……………
The start of the process:
Need to find post code for the premises, have a external site drawing ready to issue, know the electrical load required, type of supply, when you want the supply for.. etc.
All ready to be submit as part of supply application issued to the Distribution Network Operator (DNO).
Please note: –
Regional Electrical Company – (REC) term is no longer used by the industry.
REC's are use it for a different term of reference now!
Renewable Energy Certificates, and used throughout the world!
REC'S is a system currently operational including European countries facilitating the trade of renewable energy certificates. RECS certificates serve as a proof of an environmental power production. They can be traded independently of physical power production in order to stimulate international renewable energy development. But thats a separate subject……

So REC, think DNO!
OK, you got an application form:
First decision: Estimated or fixed quotation?
Estimated is quicker to get back, but its like asking for a quick budget cost. If you go ahead you still need to ask for a fixed quotation later on.
Your in a hurry. So you ask for a fixed quotation.
You send in an initial application to the Distribution Network Operator (DNO) for a fixed quotation.
They then send you a second form to fill in and you need to calculate or your informed of the fee charge for them to prepare the quotation for your project, and you pay them as apart of the application.
They then have to reply back to the customer with a written quotation – within three months!
Yep, no mis-spelling.
All initial inquires are put in at strict queue order, and they are always very busy!
So the Client starts to ring you daily, then over time, weekly, then just e-mailing you, asking for any news! General message: Its important – do what you can!
Finally, you get the fixed quotation back with the DNO electrical supply connection details with a customer reference number.
The client starts to sign the contract and then reads the value of the fixed quotation.
Client then asks if payment, can be delayed till after the works have been completed, or can stage payments be agreed.
Stage payments to a DNO only seem to occur on major projects, as an example, redesigning a shopping centre with multiple phases.
The Clients in a rush, thinking "project delay" project completion looming and "lack of supply" being a big 'red' flag item, so mutters a bit and agree to sign document and full payment immediately,
then…………
You then wait for up to two / three weeks for payment clearance and the DNO Planning engineer assigns a DNO Project engineer (customer contact) to the project.
So the Client starts to ring you daily you daily. General message: Any news yet? When can they start? Its important – do what you can!
The DNO Project engineer then normally ask for all the information you submitted originally …again, as any information that was given to the DNO Planning engineer with the initial inquiry, is never forwarded to the DNO project engineer with the customer reference project file, only the DNO approved submitted application form details and allocated customer reference number.
The DNO Project engineer will forward internally information to the DNO Legal department to undertake a land search to see who owns the land and contact the legal owner to obtain permissions wayleaves, right of entry, etc.
Until the LEGALS are done, no installation or construction works can commence.
DNO Legal department notifies the assigned DNO electrical project engineer that everything is accepted and signed off.
So the Client starts to ring you again. General message: Any news yet? Can we help? Can we do the legals for them? When can they start? Its important – do what you can!
The DNO Project engineer then applies for a MPAN (Meter Point Administration Number) identity and informs you that every thing is going OK.
So the Client starts to ring you again. General message: When can they start? Its important – do what you can!
Obtaining a MPAN Identity can take to take up to two / three weeks.
MPAN (Meter Point Administration Number)
An MPAN (Meter Point Administration Number) is a unique number to the properties supply. Every meter has its own MPAN reference.
This is sometimes called a Supply Number but it should not be confused by your customer reference number
The full MPAN is 21 digits in length and should be printed in the format below on electricity bill – When you get it.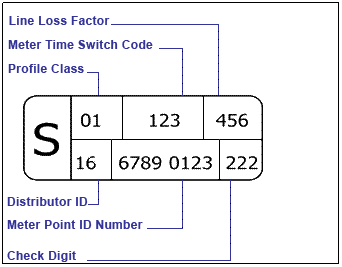 Profile Class
Every property has a profile class.
Profile classes are used where half -hourly metering is not installed and provides the electricity supplier with an expectation as to how electricity will be consumed throughout the day.
From a domestic customer viewpoint we are interested in two classes 01 and 02. Other classes that exist are 03, 04, 05, 06, 07, and 08. Where half-hourly metering is installed (large consumers) the profile class in 00.
Detailed below are the profile classes used as guidance to show your likely electricity consumption throughout the 24 hour period. You will notice that summer and winter figures are different:
01 Domestic Unrestricted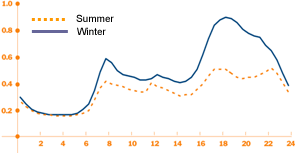 02 Domestic Economy 7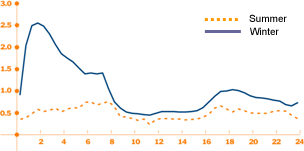 03 Non-Domestic Unrestricted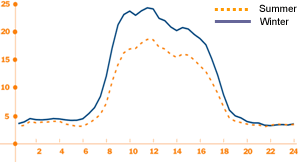 04 Non-Domestic Economy 7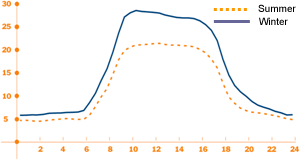 05 Non-Domestic Maximum Demand 0-20% Load Factor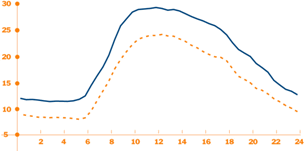 06 Non-Domestic Maximum Demand 20-30% Load Factor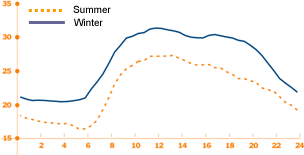 07 Non-Domestic Maximum Demand 30-40% Load Factor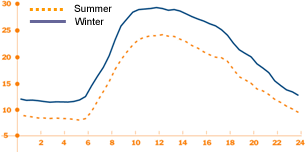 08 Non-Domestic Maximum Demand >40% Load Factor
Meter Time Switch Code (MTC)
The Meter Time Switch Code indicates how many registers (set of meter reads or dials) your electricity meter has and what times they will operate during the day. The Meter Time Switch Code will show if your meter has two registers, one which records day consumption, the other night.
Line Loss Factor (LLF)
The Line Loss Factor code stipulates the expected costs the distribution company will charge the supplier for using the cables and network in your region. This Line Loss Factor code will also indicate to the electricity supplier the potential charges incurred, due to loss of energy incurred whilst getting the electricity supplier to your meter.
Distributor ID
The Distributor ID will identify the local Distribution Company for your electricity supply. The Distribution company is responsible for management of the distribution system and electricity wires which transports the electricity to your meter.
10 – Eastern Electricity
11 – East Midlands Electricity
12 – London Electricity
13 – MANWEB
14 – Midlands Electricity
15 – Northern Electricity
16 – NORWEB
17 – Scottish Hydro-Electric
18 – Scottish Power
19 – Seeboard
20 – Southern Electricity
21 – SWALEC
22 – SWEB
23 – Yorkshire Electricity
Meter Point ID Number
This is a unique number within the distribution area to identify the actual metering point.
Check Digit
This number is calculated from the Distributor ID and Meter Point ID Number to provide a check digit that other systems can use to validate the both numbers.
The next complex bit
The electrical supply company – Distribution Network Operator (DNO) Company, can not supply the energy (Electrical shipper) or install the electrical meter (Meter Operator Provider) or read the meter, when its working (Data Collector)
You need a Mpan number to apply for a electrical supplier, meter and data collector.
The rule of thumb is: the bigger, or the more supplies required, the more complex it gets:
Typically, from easyest to hardest:
Single domestic supply – 60A S&N
Residential / Commercial/ Industrial properties up 100 amp
Commercial / Industrial properties 200 amp to 630 amp Low Voltage
This type of suply will need a Half Hourly Meters or "00" electricity meters have a peak load above 100kW and are equipped with a 'half hourly' primary meter. These commercial electricity meters cover all sites that have a large commercial supply of electricity and the electricity meter is read every 30-minutes of the day, hence the name half hourly meter. This means that total consumption is recorded every half hour, and this information is automatically retrieved from the meter and passed directly to the energy supplier ensuring your energy bills are accurate.
Private LV network Agreement
Embedded Generation Agreement



HV supply – customers own substation
Larger industrial and commercial premised are supplied directly from our 11kV high voltage network. The customer will own the 11kV/LV step down transformers, LV distribution system and possibly some 11kV switchgear.
Developing proposals for new network infrastructure
Network re-enforcement works



Metering and electrical supplies
Since de-regulation in April 1994 two distinct retail market segmentations have emerged in the UK electricity markets, half-hourly metered sites and that of non half-hourly metered sites. The retail electricity market in the UK has become highly competitive in both segments. Two distinct market trends have emerged from this as the various supply companies decide upon their chosen strategy to cope with intensive competition. The first discernible trend is that as the various participants are merging in an effort to consolidate, market share reaches critical mass allowing operational costs to be apportioned over greater volumes of customers. Secondly, suppliers are actively pursuing the business of competitors by employing aggressive pricing policies. Catalyst is ideally positioned to negotiate and tender with these suppliers in pursuit of service and value for money from your chosen supplier.
How are they priced
If you are a large customer you must have a contract based on readings taken each half hour period during the day. These are known as half-hourly metered contracts and the price of electricity will vary depending in part of the national demand for power at particular times in the day. Large customers must have appropriate metering (Code 5 or above) which are operated and maintained by an approved Meter Operator (MOP). The data from these meters must also be collected by an approved Data Collector (DC). A full list of approved meter operators and data collectors is available from the industry regulator, Ofgem.
Comparing Offers
Offers are notoriously difficult to compare. Different suppliers bundle different elements together, which makes the precise factors very difficult to isolate. Potential suppliers can be asked to respond to a customer request by listing the various aspects of the prices and charges that are to be applied.
So the Client starts to ring you again.
General message: Whats an electrical supplier,MOP and data collector? Can you fill the form in for us? When can they start? Its important – do what you can!
So……..

We known you've already pre- selected your Electrical shipper, Meter Operator Provider and data Collector and can add these details immediately to the relevant application forms required ……right!
The meter operator, energy shipper, meter operator can then send separate application forms, asking for some of the same information again. This is all subject to the type and size of supplied required. But generally application forms asks: Whats the agreed electrical capacity (ASC), name and address of for bill payments, who's the energy shipper, who's the meter operator, who's the data collector and what datte you want to have a supply connected for.
Then they then have to exchanged details to each other and the DNO re-confirm that all parties are assigned, and have register their details against the registered mpan identity.
Final application process time up to 20 days is required.

So the Client starts to ring you again. General message: Can they do it sooner? Its important – do what you can!
Day of meter operator visit
Day of visit – any time between 8:00 and 6:00pm, they don't give an expected visit time.
So someone been waiting all day for them, but popped out at at lunch time for some food!
Meter operator visited site, but no one available to give them access?
Cancellation fee must be paid (£450.00) and customer needs re-apply, next visit needs to be pre booked again, period to next attempt to not less than 10 days or more!
No electrical installation test certificate available to meter operator to see.
Cancellation fee must be paid (£450.00) and customer needs re-apply, next visit needs to be pre booked again, period to next attempt to not less than 10 days or more!
Cabling tails, cable trunking slots not correct, not ready for meter operator to use.
Cancellation fee must be paid (£450.00) and customer needs re-apply, next visit needs to be pre booked again, period to next attempt to not less than 10 days or more!
Meter operator found 2nd meter within development and both are not the same supply arrangement. (TN-S/ TN-C-S)
Supply connect refused must be the same. Cancellation fee may be asked for and customer needs re-apply, next visit needs to be pre booked again, period to next attempt to not less than 10 days or more!
Plus you need to change the other supplies earthing arrangement. Even if it not yours. Gets tricky….
So the Client starts to ring you again. General message: Can they come back tomorrow? Its important – do what you can!
So you thought thats its it then, no more problems………..then?
Did you remember all the other matters, as design engineer or customer your suppose to know?
Did you remember that Scottish and Southern require all metering generally to be accessible for outside the building?
But, that EDF Energy allow metering inside the building.
Did you remember that Scottish and Southern require all cabling to be burred direct in to the soil to the building entry point.
EDF Energy Networks require all cabling to be within cable ducts to the building.
Did you remember that it'd down to the contractor is to purchase the metering GRP enclosure, that comes in different sizes and different DNO's have different rules and standards to which one shall be selected and used.
Did you remember to comply with the meter operators clear spacing requirements?
Understand about AMR smart metering and what the requirement are?
Follow DNO approved equipments requirements on private network developments, installed by the contractor.
And all the other things that could to trip you up in obtaining a new supply…………
Thats OK then……….
But, ever heard the 2004 Traffic Management Act and secondary legislation as well as current legislation and codes of practice. (TMA)?
From 1 April 2008 a new piece of legislation came in to force. The Traffic Management Act (TMA) 2004, came into force. The TMA will help tackle congestion and reduce disruption on the road network. It has several parts, but the key section for connections purposes covers street works activity. This part of the TMA will increase the requirements on the administration side of street works, and give further powers to local authorities for them to fulfil their duties under the TMA.
Key changes
There are some key changes that you need to be aware of if any of the work we must carry out to deliver your connections takes place on the public highway or on roads, footpaths etc, that will become adopted by the local authority.
Timescales
DNO's mus issue notice periods to local authorities before commencing our work. The notice period ranges from three working days to three months depending on the scale of the work.
Timescales:
Extent of works ———————-How works are defined —————————–Notice period required
Major works – Works that take more than 10 working days to complete or require road closure – Minimum of three months
Standard works – Works that take between four and 10 working days to complete – Minimum of 10 working days
Minor works – Works that take up to three working days to complete – Minimum of three working days
So the Client starts to ring you again. General message: Can they install the cable any sooner? Its important – do what you can!
Key points
The duration of works includes all works on site, i.e. setting up, excavating, installation of utility connections, reinstatement and clearing up.
The forward notices can only be issued to the local authority once the DNO have received your acceptance of the quotation.
If your development means that the DNO need to work in more than one street, the TMA requires that DNO's serve one notice per street.
If changes to works are needed following acceptance, the DNO will need to know as quickly as possible to liaise with the local authority in order to deliver your connections.
Local authorities will have more powers to enforce compliance with the TMA requirements.
Local authority powers
The powers of local authorities have been increased to aid coordination of street works and to reduce disruption. Some of these powers may affect the delivery of utility connections to your development, so you need to be aware of them.
Power to give directions for the placing of new apparatus – a local authority can, on the grounds of excessive traffic disruption, direct DNO's not to lay new equipment in a given street. DNO's have to decide on a viable alternative route, and this may increase the costs to you.
Restrictions following other works – If other works have occurred in a given street, eg resurfacing, the local authority can impose an embargo on further works of up to five years. Fortunately, new customer connections are exempt from the full restriction, and instead will need to wait 20 working days from completion of the previous works before the connections works can begin.
Introduction of a permit scheme
In order to help meet their 'Network Management Duty', local authorities can opt to become 'Permit Scheme Operators' under the TMA.
The fundamental difference between a Permit Scheme and the existing Noticing system is that when DNO's apply for a permit, DNO's are booking time on the highway. The local authority has to approve the DNO application and can set conditions on the works. The timescale for forward notice periods for permits and categories of permits is the same as those in the table above. However, there will be a charge for the permits. The permit fee will be made clear within the quotation the DNO provide, and will be chargeable to you.
If the customers requirements change following approval of a permit, the DNO can request a variation. However, the local authority will make a charge for permit variations that we be pass on to the customer. If you choose the DNO to deliver your electricity, gas and water connections there will be opportunities to reduce the permit fees if we can manage the works under a 'trench sharing' agreement.
Each local authority can decide whether or not to become a 'Permit Scheme Operator', and can also decide the scope of its permit scheme, and the level of its permit fees. Therefore its not possible known the list of fees incurred.
Summary
The Traffic Management Act came into effect on 1 April 2008.
This includes new longer forward notice periods and the new powers outlined above.
here will be less flexibility around work dates and durations, so it is important to let the DNO know as soon as you can about potential sites. The DNO can then plan works carefully and provide accurate information.
DNO's can work with you and liaise with the local authorities to deliver your utility connections.
Local authorities are still evaluating whether to opt to be Permit Scheme Operators, and the scope and fee levels in their schemes. They can choose to do this at any time from 1 April 2008 onwards.
Further detail about the Traffic Management Act can be found at the Department for Transport's website.
SO…………….
A new electrical supply – It can't be that hard, to arrange for us! Right? Its important – do what you can!